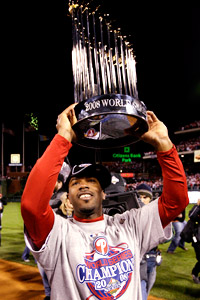 Congratulations 2008 Philadelphia Phillies!!! The Phillies won the World Series in 5 games against the American League's Tampa Bay Rays. The Phils beat the Rays 4-3 a in game 5 that took 3 days to complete.
In a city starved for a championship ~ ANY championship ~ the Phillies came through with big hits and clutch pitching from Cole Hamels the 2008 World Series MVP. Brad Lidge remained perfect in save chances for the year, he converted 41 of 41 regular season save oppurtunities, and 7 of 7 in the post season including 2 in the World Series, as he struck out Eric Hinske for the final out of the series.
This season, the Phillies lost their 10,000th game, the most of any team in any sport in history. On Wednesday night, they made that stat absolutely meaningless, the losingest team in history, has a world championship to celebrate, and they deserve it!